Ideas of Progress with Joachim Diercks
About the format:
"Fortschrittsgedanken" appeared weekly in 2020 on the FAIR.nrw blog and presents the opinions of various experts from research and practice on questions that always remain the same. The primary topic is algorithms in personnel selection. FAIR was a project led by CASE and the university of cologne.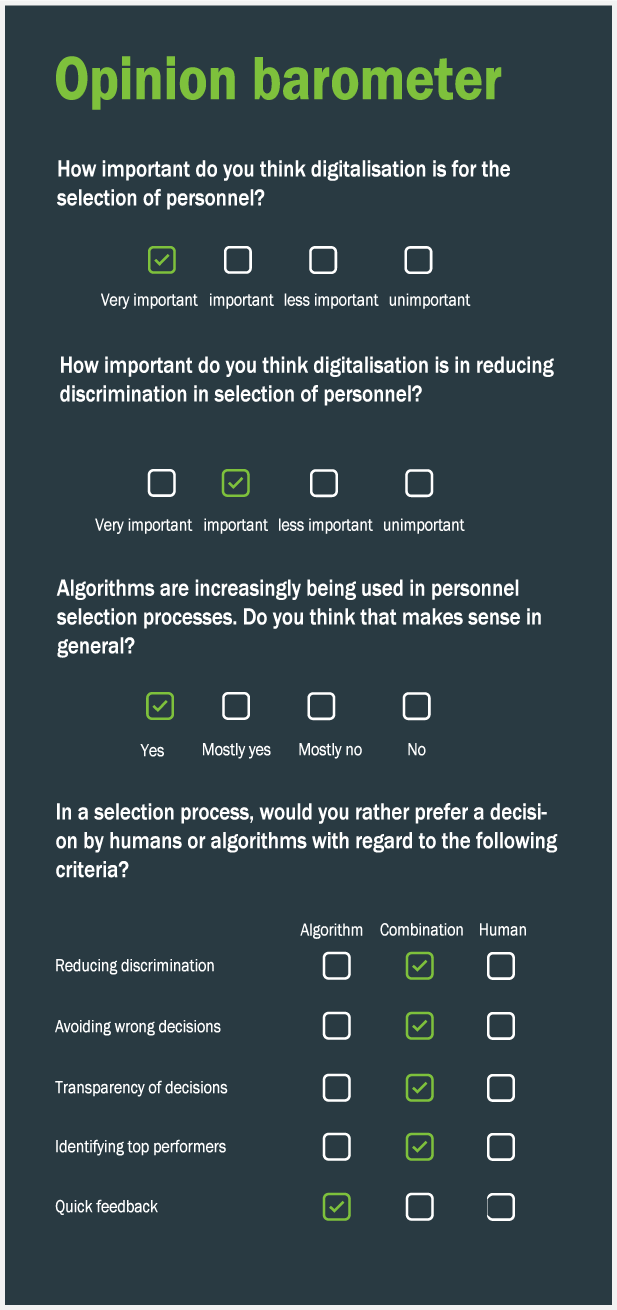 About the author:
Joachim Diercks is the founder and managing director of CYQUEST GmbH in Hamburg. CYQUEST is one of the leading providers of company- and university-specific solutions in the areas of aptitude diagnostics (online assessment) as well as career and study orientation. Diercks is a guest lecturer at various universities, editor of the book "Recrutainment" (2014), author of numerous articles on recruiting topics and a regular speaker at HR conferences. With the Recrutainment Blog, he is responsible for one of the most widely read German-language HR blogs.

What opportunities do algorithms offer in personnel selection and where are the risks?
I see the opportunities especially in the 24/7 availability, e.g. when a bot answers standard questions even on weekends, in the speed, e.g. in the initial screening of large numbers of applications and thirdly also in the assessment quality or validity. The latter, however, not in the sense that an algorithm can assess "better" per se, but in the sense that algorithms can incorporate valuable additional features into the assessment that would otherwise remain in the dark. Example: Information about cognitive performance, determined by a test. It always becomes risky when the assessment of an algorithm can no longer be traced or "explained".
What influence does discrimination have in personnel selection?
An incredibly large one. Unfortunately. Candidates are rejected because of their ethnicity, gender or even just because of their first name. Others are positively evaluated because they happen to have a similar hobby to the recruiter or hiring manager. It is not only through "Black Lives Matter" that we are all called upon to actively improve these things. After all, discrimination is only something "intentional" in very few cases. Mostly it happens unconsciously. One thing above all helps against this: sensitisation. Then you can take active steps against it and improve things. Important: This is not only ethically required, but also - quite coolly - makes sense from a business point of view. Discrimination simply makes personnel selection qualitatively worse.
Can algorithms help to reduce discrimination in personnel selection?
Yes, of course! If, for example, an algorithm in the form of a test provides information about an applicant's problem-solving skills, then this is not only information that otherwise could not really have been gleaned from the application documents (which makes the quality of the assessment better - "more valid"), but this information is completely independent of skin colour, gender, age, etc. It can also help to reduce discrimination in personnel selection. But of course algorithms can also discriminate! Simple example: An algorithm "If gender = female, then action = rejection" would be highly discriminatory. And the more complex algorithms become - keyword "neuronal networks" - the easier it is to hide the discrimination they contain.
In concrete terms: What does the ideal process for personnel selection look like?
There is probably no such thing as "the" ideal selection process. But if the following ingredients were taken into account, it would not be so bad:
1. maximum transparency in personnel marketing in the sense of realistic job previews, because this considerably improves the "self-selection" of candidates.
2. if necessary, the use of a self-assessment tool, which interested parties can use to find out for themselves whether they want to and should apply at all. And if so, to what. This is also self-selection.
3. a simple online application that asks for only a few characteristics that are relevant for an initial selection (and only those!).
4. online assessment. Definitely for measuring cognitive performance, possibly also for personality traits.
5. structured (at least partially structured) interview. Included: Biographical, but also requirement-related tasks and work samples.
6. Informal conversation ("coffee talk") with potential future colleagues.