Progressing HR with Ali Waters
About the author:
Ali Waters is the founder of Ali Waters associates, a UK based SME offering a niche service in recruitment training. Ali has more than 20 years experience working with the UK's largest employers, both at entry level and experienced hire. For the last 5 years, Ali has been turning her passion for quality recruitment towards smaller businesses. She takes her experience from big corporates and applies the best elements, making quality recruitment methods accessible and affordable, to help SMEs succeed and grow.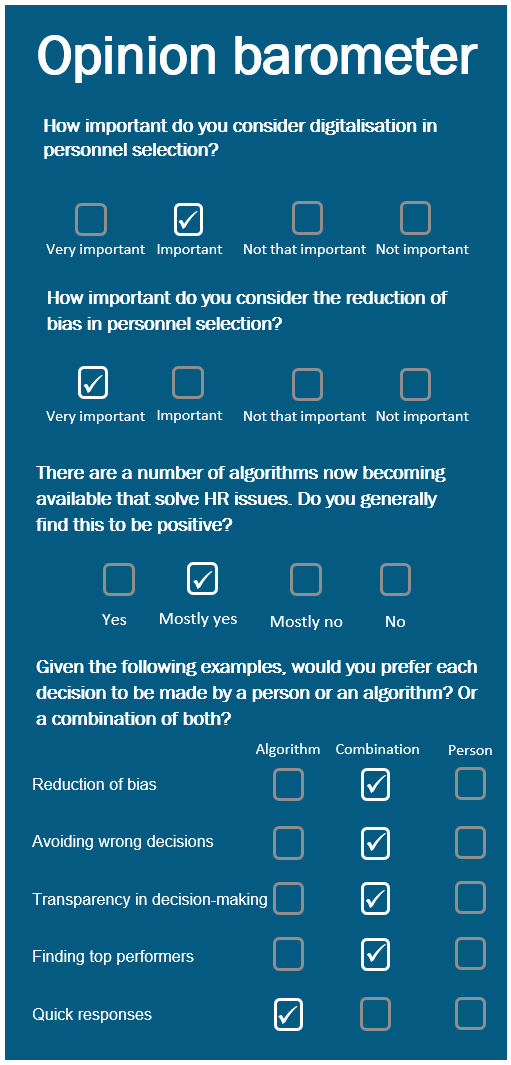 Do you see potential for the use of algorithms in personnel selection? Where are the risks?
Yes, technology that could increase efficiency, reduce bias, give great candidate experience and lead to better hiring decisions would be a game changer. It would be great to get away from the 'gut feel' and instance judgements that we still battle with and move to a world of truly objective assessment. One volume student employer I work with has won awards for their drive towards social mobility, assisted by an algorithm at application form stage. 
Using algorithms comes with risks though. General feedback from candidates is that automated assessments are unfriendly and impersonal. For example, in the one-way video interview, candidates miss the opportunity to meet and build rapport with a real person. Relationship building is a huge part of attraction and recruiters using tech in the early stages should be mindful that this is totally lost and make up for it later on with engagement and warmth, to avoid losing good candidates.
Another consideration is how to give meaningful feedback to candidates who have been rejected at interview by an algorithm. Many employers pride themselves on providing constructive pointers on how to improve interview technique and encourage applicants to apply again in future. This is a great opportunity for them to sell their employer brand. Algorithms use all sorts of publicly available data in their decision making. Feedback by robot, the mind boggles!
To what extent do you think bias plays a role in personnel selection?
A huge part. I think it's incredibly difficult to eliminate bias in recruitment. Humans have a tendency to surround themselves with people they like and who are similar to themselves, so helping people to understand the value of a diverse team is key. Unconscious bias tests are very topical at the moment but making people aware of their own bias although interesting, doesn't prevent the bias creeping.
In my opinion, the move to blind telephone interviews (where interviewers are given the name and phone number of candidates only) about 10 years ago was a huge step in the right direction in avoiding 'appearance' bias. However, many employers have moved on since then to video interviews so this bias has crept back in.
I think that making sure that candidates are assessed by different people at each stage of the process and by different assessors for each exercise at assessment centre helps make more informed and objective decisions. Though this can be challenging to achieve if you have limited resources.
Algorithms are only as good as the data they are trained on and the humans who build them. Many tech teams who set out to reduce bias in recruitment have actually only increased it. For example, a US company, when considering purchase of an CV screening tool, did an audit of the factors it used to indicate success in the role. They found that if you name was Jared and you played high school lacrosse, you had a higher than average chance of being recruited.
What do you think is the ideal process for finding the right hire?
My view is that you need a balance between efficiency and warmth in your process in order to attract and engage top talent.
The competency or strengths-based approach is the proven method with interviews and job related tasks and tests designed around this framework. I think that training interviewers and assessors to use the criteria and indicators accurately and objectively is key to making good hiring decisions. 
I recommend the use of psychometric tests in recruitment processes, as these help to gain a deeper level of understanding of candidate behaviour and motivation. 
Recruiters now have so many engaging tools to complement their roles, making it easier to predict success in the role. We use virtual reality to assess emotional intelligence and mobile apps to assess appetite for risk. 
However, I honestly don't think tech will be making the human element redundant any time soon. People are our assets and the decision on who to bring into our teams, far too important to leave to a robot.