Progress thoughts: Prof. Anja Lüthy
About the format:
"Fortschrittsgedanken" appeared weekly on the FAIR.nrw blog in 2020 and presents the opinions of various experts from research and practice on questions that always remain the same. The primary topic is algorithms in personnel selection.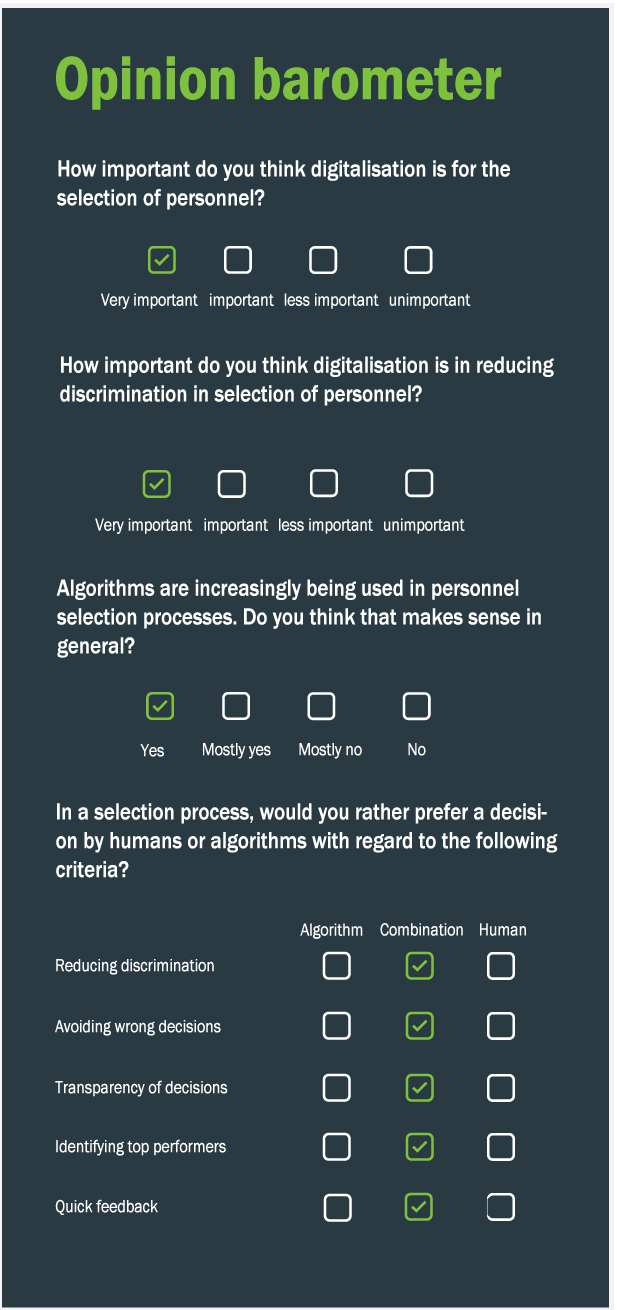 About the author:
Anja Lüthy holds a degree in psychology and business administration, and is a professor specializing in service management and marketing in the Department of Economics at the Brandenburg University of Applied Sciences. As a sideline, she is a speaker, trainer and coach in health and social institutions. Her focus is on employer branding, recruiting, personnel marketing in health and social care institutions.

What opportunities do algorithms offer in personnel selection and where are the risks?
I am convinced that the importance of AI - software - solutions will increase massively in the coming years and that they will be used more and more frequently for personnel selection. Initially, this will probably only take the form of chatbots on career websites that answer applicants' initial questions about the company. However, companies in all industries will save a lot of time and money in the long run through AI - recruiting. The recruiting process will become more efficient and faster through "automation."
Artificial intelligence-based applications offer the chance to learn through data and therefore make better and better predictions over time. A well-programmed algorithm is much more neutral in its assessment and more consistent in its performance than a human, which brings unconscious bias. This represents significant added value for applicants.
However, I think it is dangerous to predict future performance of an applicant ONLY by AI - controlled checking of CVs or online tests / online assessments or only by interviews conducted with chatbots. AI - algorithms can also - since programmed by humans - be prejudice-based and err in selecting the one who best fits the position to be filled. Two years ago, "the Amazon case" proved that women were systematically disadvantaged in the selection process with the help of the algorithm used at the time (see
https://www.zeit.de/arbeit/2018-10/bewerbungsroboter-kuenstliche-intelligenz-amazon-frauen-diskriminierung
).
What influence does discrimination have in personnel selection?
Of course, discrimination unfortunately still plays a major role in personnel selection. Study results show that an applicant's first and last name alone can determine whether the candidate is allowed to participate in the application process at all. For example, the results of a study conducted by Doris Weichselbaumer of Johannes Kepler University Linz in 2016 proved that the probability of someone being invited for an interview depends on what name he/she has and whether he/she is wearing a headscarf in the application photo. The biography/resume of the applicants was always the same (see
http://ftp.iza.org/dp10217.pdf
).
Can algorithms help to reduce discrimination in personnel selection?
Yes, algorithms can certainly help to reduce discrimination in personnel selection, provided they have been programmed without prejudice and in a non-discriminatory manner. The well-known "halo effect", i.e. the subjective assessment of applicants based on external characteristics, is minimized via objective, reliable and valid AI algorithms.
With more automation in selection processes, however, recruiting can also be made more pleasant in terms of humane "human resource management" if recruiters can take more time for personal interviews with applicants because AI-supported tools (e.g., a chatbot or online assessments) have relieved them of aptitude-diagnostic work in advance.
More specifically, what is the ideal process for personnel selection?
The Corona crisis led to the increasing adoption of a mobile and digital recruiting process. The so-called "Candidate Journey" of applicants is actually 90% digitalizable. Only at the very end of the application process, of course, there is still an intensive face-to-face meeting, which in times of predefined contact restrictions can certainly also take place via video conference if necessary.
From the job advertisement to the selection of a candidate, a great many "sub-steps" can already be carried out digitally and aptitude-agnostically in a professional manner today: Job seekers first want to come across appealing and informative career pages. There, they already want to find the option of asking a chatbot initial questions about earnings and the application process. Applicants want to apply quickly and with just a few clicks directly via their smartphone, be it via Whatsapp (as a text or voice message), with a 90 - second selfie video clip or with the help of an online form. A very fast and friendly automated confirmation of receipt of their application is highly appreciated by job seekers.
AI-supported self-tests on career websites (so-called culture matchers - tests to measure "cultural fit") can help applicants individually check whether the company's culture fits him/her at all without much effort.
Applicants no longer have to appear in person for on-site aptitude tests. AI-supported online assessment centers with an entertainment factor in the sense of "recruitainment" are very popular, especially in the selection of trainees Job interviews via a digital video conferencing system should be "normal".
At the end of an ideal personnel selection process is the decision on the suitability of an applicant for the position to be filled. It must be made jointly by the team. Votes involving teams are much easier to organize digitally if all decision-makers have digital access to all applicant data (evaluated with the help of AI) at any time and from anywhere.