Use of algorithms in the application process
Digitalization in recruiting is in full swing. New models are being developed almost daily to bring more efficiency and performance to companies. So far, however, people are still shying away from the use of algorithms. And rightly so in part, because an algorithm can only make decisions based on the data with which it is trained. So if there are already undetected wrong decisions in the training data set, the algorithm may erroneously reproduce these decisions.  
Algorithms can help reduce discrimination in recruiting
The results of a 2020 McKinsey analysis showed that diverse teams contribute to improved economic performance and more innovation. It is therefore in the interest of companies to promote diversity and define it as an important goal. Just because an applicant has an unfamiliar name, different religious views or a different sexual orientation, he or she should not be denied the chance of a good job in the application process.
Algorithms have the potential to address the problem of discrimination in application processes. When used correctly, they create more objectivity and thus more fairness. Human-induced unequal treatment, whether conscious or subconscious, can thus be neutralized and applicants who would otherwise have been potentially exposed to discrimination have better chances.
What exactly should be the focus of algorithmic personnel selection?
This question can be answered quickly: Scientifically valid criteria that are clear indicators of subsequent job success. The best way to do this is to use proven instruments from psychology: cognitive performance as well as personality traits according to the Big 5 model.
The CASE Score shows exactly these criteria when comparing degrees. It is based on scientific methods, extensively validated and does not discriminate. And, it pays off, as this evaluation based on our Fachkraft 2030 study shows.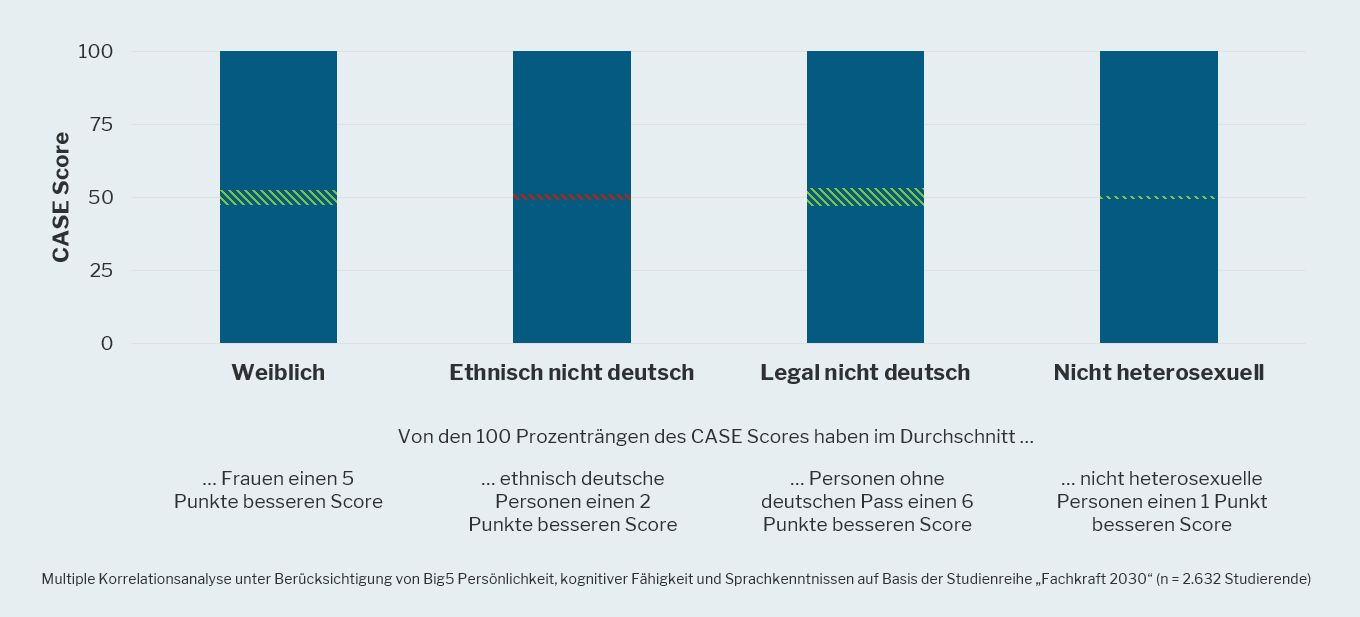 Out of 100 percentiles (or percentile ranks), women are five percentiles better, legally non-Germans are six percentiles better, and non-heterosexuals are one percentile better. In comparison, ethnic non-Germans do two percentiles worse. It would be desirable if these differences were larger, but they nevertheless support, albeit very slightly, the groups of people who have worse opportunities in the labor market.
Conclusion 
It can be concluded that discrimination is still a major issue in personnel selection. One solution that has been applied in companies for some time is algorithms. They can be a suitable and helpful tool in applicant selection, as long as they are used judiciously and the criteria used to select candidates are not discriminatory in terms of gender, origin or sexual orientation. Because, as noted earlier: Companies with diverse teams have better work performance and deliver better results. The CASE Score algorithm therefore selects qualified applicants based only on cognitive abilities and personality traits aligned with the Big 5 model, forgoing the tried-and-true criteria. In this way, it shows applicants their potential on the job market and supports them in their search for the right job using the CASE Talent Pool.